Looking for a sweet, charming and funny bridal shower theme? Then a Breakfast at Tiffany's bridal shower theme might be one that you should consider.
How do you create a Breakfast at Tiffany's Bridal Shower?
A Breakfast at Tiffany's bridal shower is ideal for a morning or brunch shower. There are plenty of ideas from invitations to games and party favors all based on this theme. I automatically think of Tiffany and Co. and pearls.
Breakfast at Tiffany's is a cute, charming and romantic film starring Audrey Hepburn. This film follows the main character, Holly, through her life as a lovely, yet imperfect a woman. The film has beautiful styles and properties of an upscale and fancy lifestyle.
I have done some research, and found some fabulous styles inspired by Breakfast at Tiffany's. This article will discuss the best ideas online for a Breakfast at Tiffany's bridal shower.
Invitations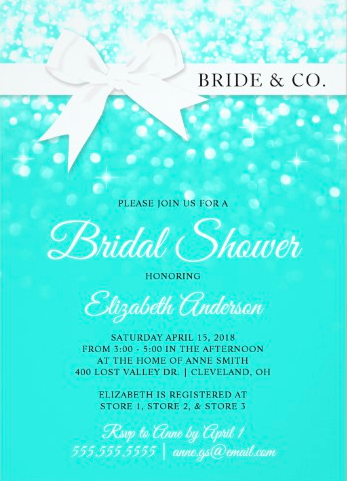 This is a beautiful invitation design from Zazzle. I like that it has a ton of sparkles and is topped off with a delicate bow. The colors matches Tiffany and Co. perfectly. The "Bride and Co." element makes this bridal shower invitation extra fancy.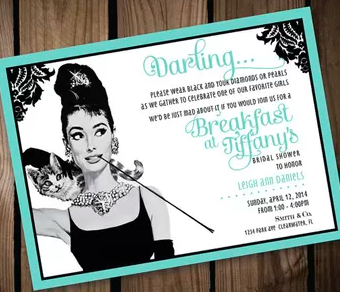 I like this invitation for a Breakfast at Tiffany's bridal shower. I like that the design has Audrey Hepburn or "Holly" displayed on one half of the invitation. This style is perfect for brides who are die hard fans of the actress. This adds more personality to the bridal shower theme.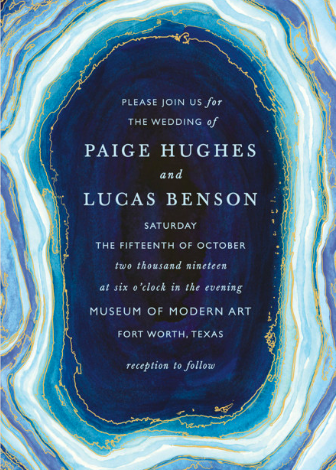 I like this Bridal shower invitation because it has a classy array of blues and is is very alluring and pretty. I like this invitation for this theme because it is not too in your face, but it still gets the point across. It will surely be a fancy and sophisticated event. This style could also be nice for a wedding invitation.
Decorations
A bridal shower with this sophisticated theme should have sophisticated decorations. When you think of Breakfast at Tiffany's, I imagine Tiffany & Co., fine jewelry, delectable treats and pearls.

Here are some fabulous design ideas for decorating an event like this.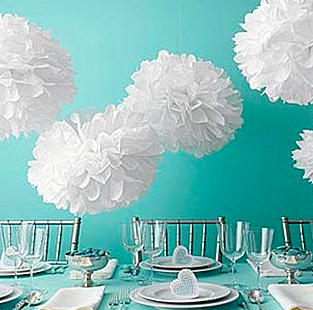 I love this simple design. Using a sky blue backdrop and big, puffy fiesta flowers is simple and beautiful design for a Breakfast at Tiffany's bridal shower. The fiesta flowers are very easy to make out you could but them online. here are some beautiful fiesta flowers on Amazon.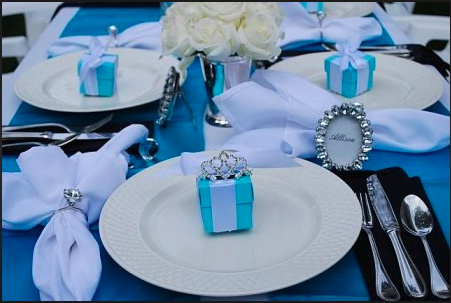 This design is really beautiful. I like this table for an intimate or private bridal shower. I really like how elegant this looks. The centerpiece is simple, but the little details are very intricate.
For example, the little Tiffany & Co. boxes sitting on top of each plate is a very nice detail. I also like that the name cards are framed with beautiful rhinestones. I can not forget to mention that using the little diamond rings for napkin rings is very clever.
Tip: You could find Tiffany & Co. gift boxes and shopping bags on Amazon and Ebay.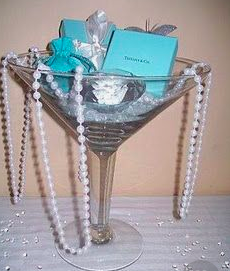 I really like this fun centerpiece idea for Divas. First of all, I love that is a martini glass. Second of all, I love that it is filled with goodies. I like that there are multiple pearl necklaces dangling from the glass. This is nice because guests could take the necklaces from the martini glass and wear them if they really want to get into character.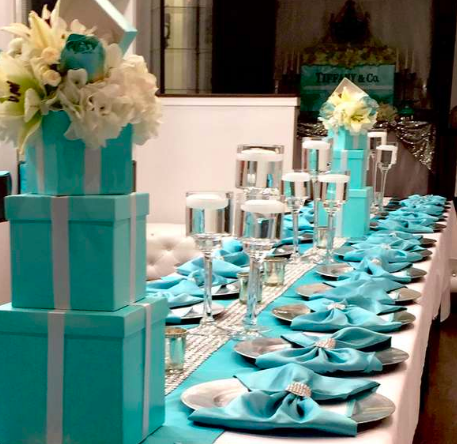 This is my holy grail Breakfast at Tiffany's Bridal shower table design. There is so much to talk I about here. I love that the table starts off simple with a white table cloth and then there are layers of luxuries.
This luxurious design is definitely for a larger bridal shower. The I love the sparkling ribbon running through the center of the table. I also love the glass candle holders. My favorite part of this design is the gift boxes. They are stacked to perfection and then topped off with a lovely bouquet.
This design is for a bride that really enjoys Tiffany & Co. The colors and details are fabulous. I am sure it will make everyone appreciate Breakfast at Tiffany's a little bit more.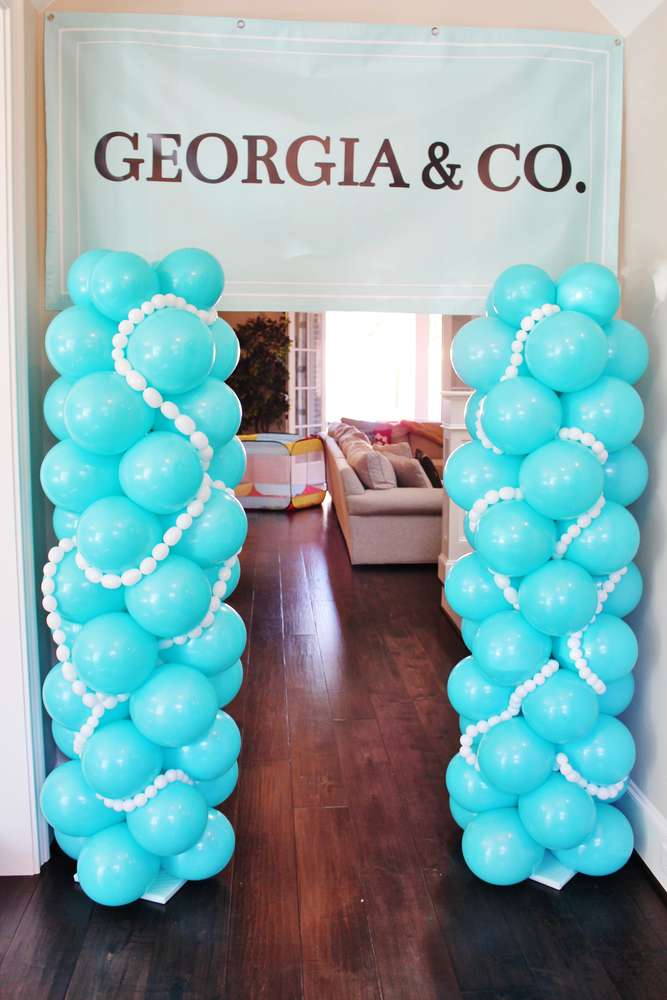 You can not forget balloons for a bridal shower. They are simple but they make a bold statement. Especially these beautiful balloons towering the doorway of the bridal shower. I love that there are pearl decals intertwined with the balloons.
Treats
There are so many ways to jazz up treats for a Breakfast at Tiffany's bridal shower. One way is to keep the color scheme. Sky blue, white and black treats are sure to make the snack table pop.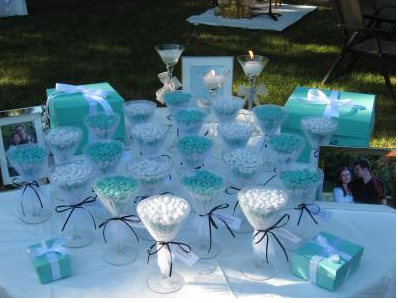 In this example, the simple use of M&Ms and martini glasses makes a beautiful dessert table. These color M&Ms could be found during Easter time. If you want the exact blue, then the aqua color M&M matches with look perfectly.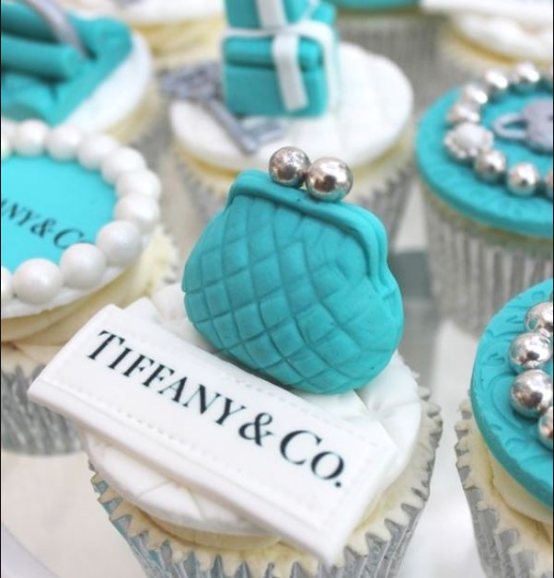 Cupcakes are always a plus. They are already cute by themselves. But dressing them up with little Tiffany & Co. decorations adds fuel to the fire! I love this little handbag on the top of this cupcake.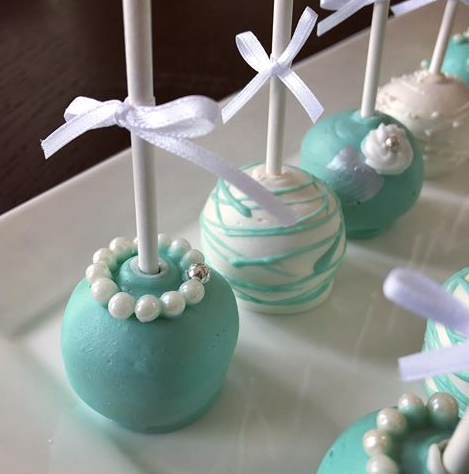 Cake pops are also nice for this theme. I like the colors and the little bows on the sticks. I imagine that the inside of theses delicious looking pops are chocolate.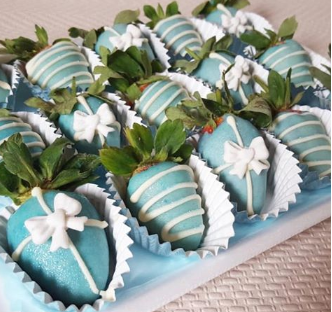 Something a little more healthier. Oh right…. it's covered in chocolate!
Games
There are a lot of games for the breakfast at Tiffany's Bridal shower theme already designed for the hostess. There are a variety of games that are designed around this theme.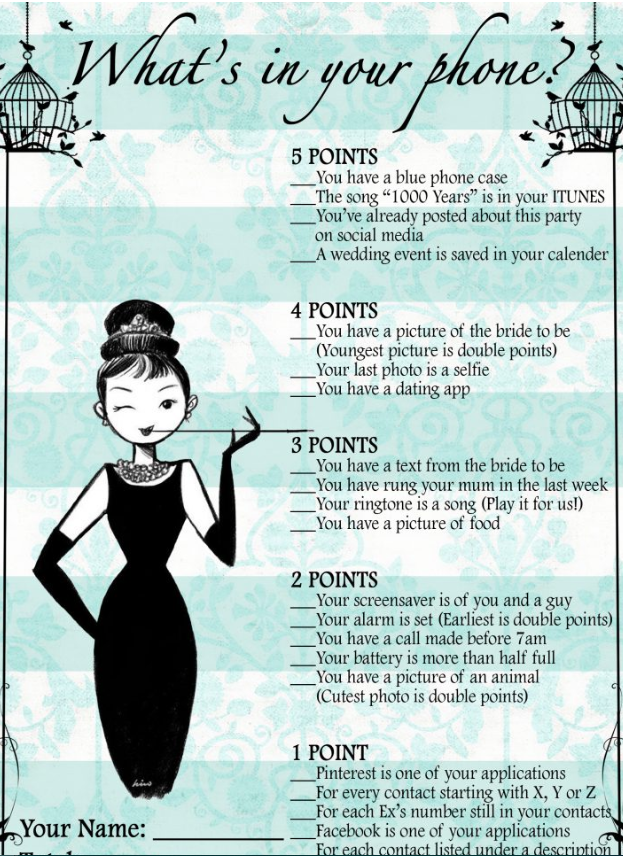 Love that Holly is pictured on this design. It will match the tables perfectly!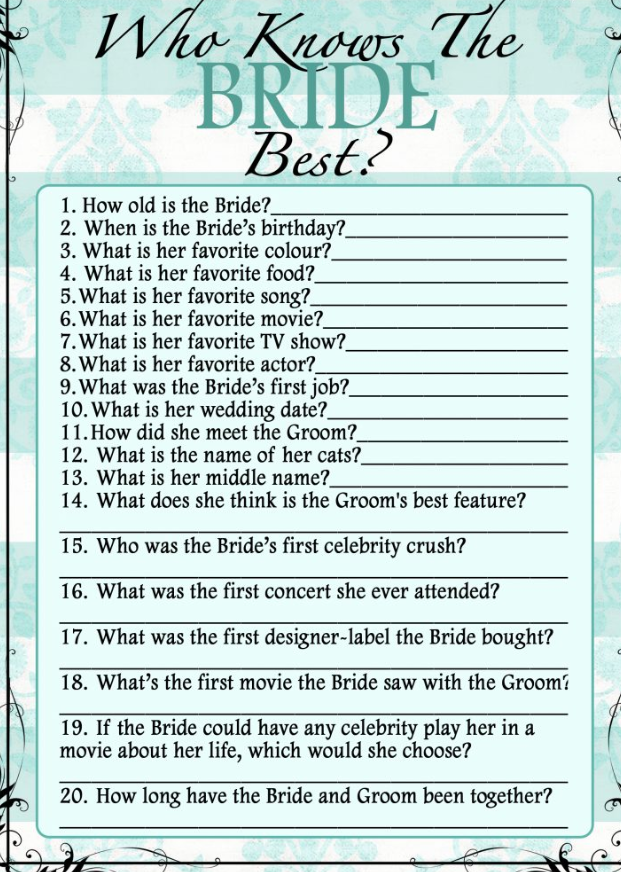 This game will test you knowledge, but more importantly you will admire the gorgeous background.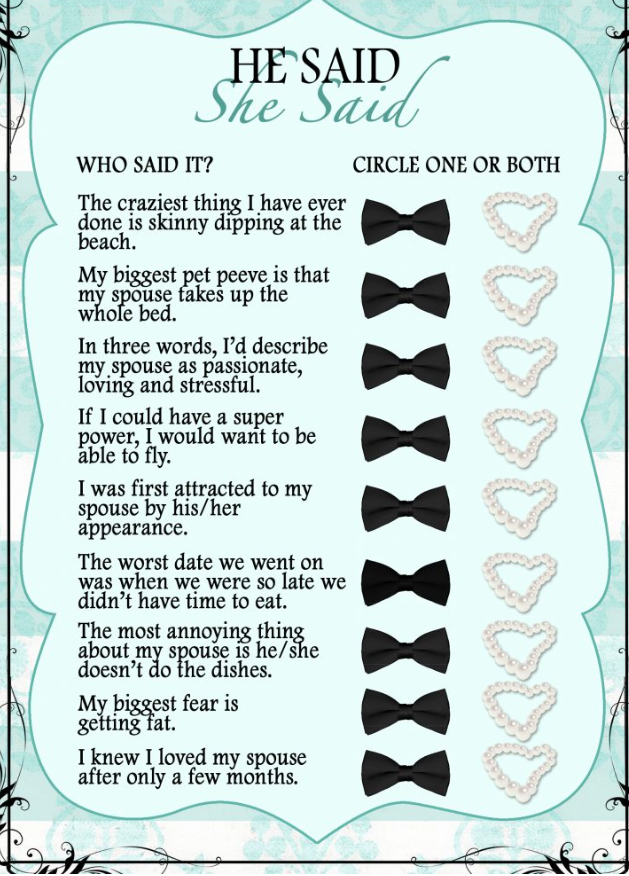 Got to have pearls for the bride! It's only right.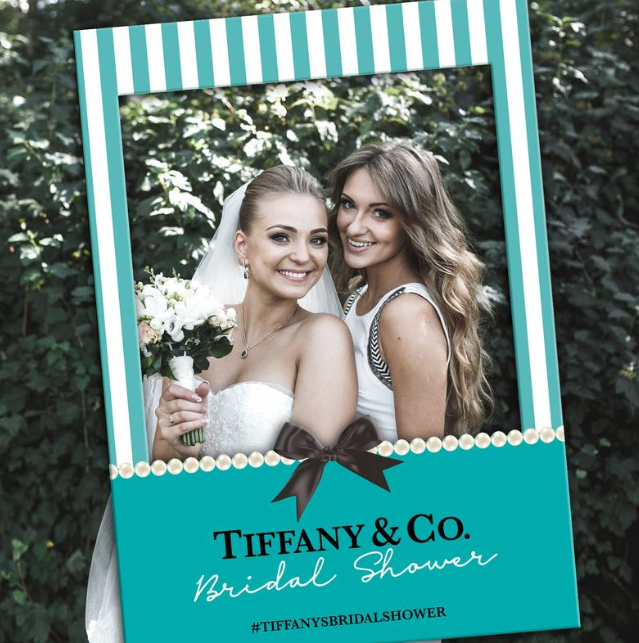 This beautiful photo booth design would be nice for an outdoor bridal shower or if the bridal shower is at a venue.
Gifts
There are so many gift options for the bride. If you want to stick to the theme. Not only could you get her a fresh copy of Breakfast at Tiffany's, but there are so many gift ideas.
Sunglasses are a girl's best friend. Especially if her honeymoon is taking place somewhere tropical.
If you know the bride more personally, you will probably know what her favorite fragrances are. But if not, it's always safe to go with a fragrance that matches this theme.
Some luxury gifts. A little something for the brides beauty sleep and her morning coffee.
Favors
You can not forget to have plenty of gifts for the guests. Just like gifts for the bride, there are many party favors that go with this theme.
A small favor wrapped in a Tiffany & Co. Box is a luxurious way of saying thank you to your guests.
Every one deserves some smell good!
Conclusion
In conclusion, a Breakfast at Tiffany's themed bridal shower is a wonderful way to celebrate the bride. Everyone will enjoy the effort you put into this theme. Because this theme is so luxurious, a little goes a long way. Select your favorite styles from this list, and use it!
What was your favorite Breakfast at Tiffany's bridal shower idea form this list?