A bridal shower prayer has been a part of the pre wedding experience for quite some time. This tradition has been losing it's popularity in recent times. It is important to remember that a wedding is a spiritual connection and prayer is a positive thing to implement in pre wedding events.
Respectively, the prayer should take place before the meal. The hostess of the bridal shower usually gives the prayer. If there is someone more comfortable with saying the prayer, then they should say it. For example, if the mother of the bride-to-be wants to say the prayer, she is more than welcome.
In this blog post, you will learn the importance of a bridal shower prayer. You will find some creative ideas for a bridal shower prayer. And there will be an example provided.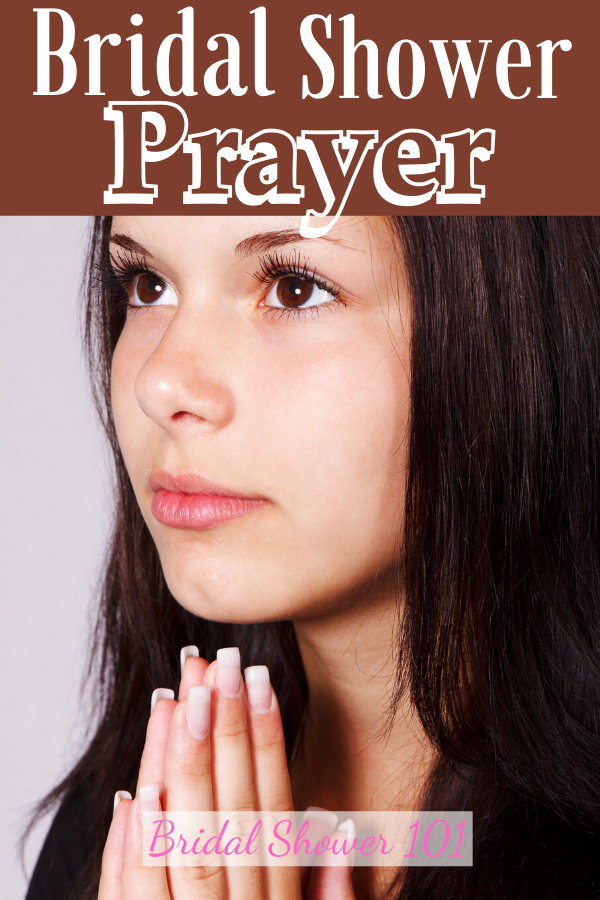 Why is a bridal shower prayer important?
Prayer is important regardless of religion. Most people have a relationship with God in some way. Know that the number of atheists are low. And if they are present, they will be respectful during the bridal shower prayer.
A virtuous bride will want prayer included in the bridal shower. There are other ways to add a prayer besides meal time. Here are some ideas for a heart felt bridal shower prayer.
Bridal Shower Prayer Cards
You could implement bridal shower prayer cards. You could include them in gifts and favors. You could have the guests share their prayer if you want. It will be a wonder way to worship.
Bridal Shower Devotional
You could devote a prayer entirely to the bride to be. Here is a bridal shower devotional that I wrote for future brides. It provides several scriptures to inspire the bride and encourage her.
It is kind of difficult to come up with a prayer for a bridal shower. When searching Google I was surprised that I could not find a lot of examples. The prayers are only for weddings and it seems to skip bridal shower prayers.
What to say in a bridal shower prayer
This is a touchy thing. You should pray on what is in your heart and soul. It should be completely genuine and full of thanks.
If you are drawing a blank for the bridal shower prayer. I provides a list of essential thing you could use. Here are some things that you could include in your bridal shower prayer.
Thank God for ALL He has done.
Overall health and strength of the couple.
Bless the food.
The wellness of the couple's family and friends.
A successful ceremony and smooth planning process.
A healthy loving marriage for the couple.
Prayer for the Bride-to-Be
The last part of this post will be an example of a bridal shower prayer that I used. This is to get your ideas going because every prayer is customized to your experiences and current situation.
"God thank you for a wonderful meal and let it be nurturing for our bodies.
Please bless this beautiful bride.
I pray that her mind body and soul is drenched in love, health an wealth.
Please watch over the couples families in their travels to the wedding.
We pray for safety in everyone's travels.
We pray for a beautiful glorious wedding that the bride and groom will cherish for a lifetime.
And most of all we pray for a loving and prosperous marriage for this beautiful couple.
We give you the honor and the glory.
Amen